This Acura spec commercial is a smooth and sexy voice that reflects Acura's precision crafted performance. The Acura voice needed to be sexy. Very sexy. Michael B Jordan sexy to be exact. A smooth and precise voice that cuts through the fast-paced visuals. This spot was mature sounding with a sultry sexy African American (sounding) voice. To say it was outside my wheelhouse, in the beginning, would be an understatement. I'm not that guy. I keep my sexy voice inside. But, challenging myself to go outside my comfort zone and perform a more mature and sexy voice, really allowed me to explore my acting abilities.
The character and sound in this Acura voice over can best be described as: smooth, cool, jazzy, sultry, classy, upscale and relaxed. Michael B Jordan is a celebrity black voice actor and top African American Male voice over talent. He is the current voice of Acura. I get referenced a lot for his sound alike in my auditions. To embody that flavor and cadence can be challenging at times. The main challenge is to sound like him, without sounding exactly like him. To still be real. To still be Kabir.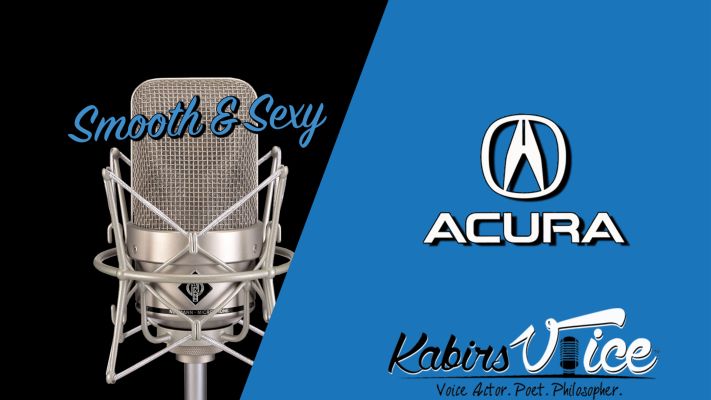 When exploring my range as an urban voice actor for hire- I do my best to respect and honor the culture of the African American and Black voice over community. Having been raised in Los Angeles, I became a product of my environment. An interesting way for an Indian born American to pick up an urban accent with flavor and swag. But being a urban or what some casting agents might define as a "black voice over talent"  has to be approached with respect. With respect and honor to some of the best African American and black voice over actors, such as Morgan Freeman and Dennis Haysbert, I practice being myself more than being or sounding like anyone else
As a male voice over artist, I have to sometimes speak to a female audience. It can be a very intimate experience. To be in front of the microphone and speak sexually but respectfully to a script. While doing this spec Acura spot I really had to sexualize the words and make it sound authentic. I referenced some old Acura spots and studied the company's recent branding efforts. Acura is very stylish. In other words, they have lots of industry Swag! They are very sexy. This commercial allowed me to explore that sexy side and use it in my arsenal for future VO work. It's a tool. A type of attitude an actor can bring to a scene and enhance its flavor instantly. Can it sell a 45-thousand-dollar car? I'll let you decide!
Demo Created by: Kabir Singh and Tim Tippets (tim@timtippets.com)
A spec spot created for demo purposes only.
Make sure to subscribe to my YouTube Page Here.
Checkout my YouTube Playlist Here!
https://kabirsvoice.com/wp-content/uploads/2018/09/best-african-american-black-male-voice-over-talent-actors.png
1500
2000
Kabir Singh
https://kabirsvoice.com/wp-content/uploads/2018/09/LogoTransparent-300x115.png
Kabir Singh
2020-10-25 05:38:21
2021-11-29 13:58:52
Acura Commercial Voice Actor