Welcome to KabirsVoice.com: home of the top male voice over artist, acting talent, and actor online.
Los Angeles based & male American voice over artist, Kabir Singh, is quickly becoming one of the top and most sought after Voice Over Talents in the industry. Kabir's voice can be heard on a variety of different media projects, including: explainer videos, eLearning modules, broadcast national campaigns and video games.  Kabir's urban and multicultural voice, provides a fresh and hip sound to the new demands of the modern and every changing advertising industry.
Kabir's poetic cadence and cool sound easily sets him apart from amateur online voice talent. KabirsVoice is raw, real and relatable. KabirsVoice has range. Kabir's voice can connect with college students, young adults, urban youth and corporate America. With a fully equipped professional recording studio and editing team, Kabir's voice has been heard on national campaigns throughout the United States and Europe.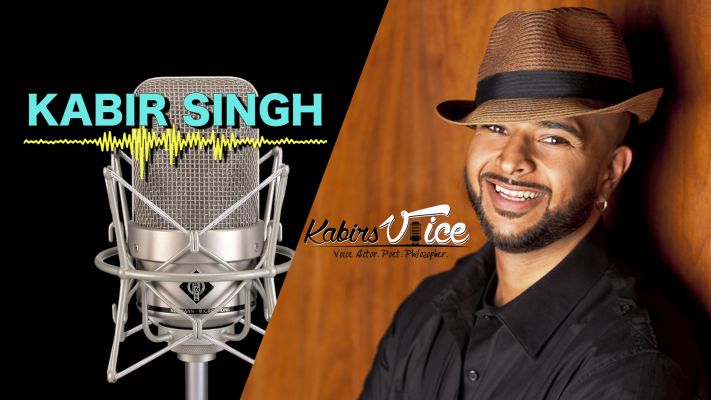 Having voiced spots for companies such as Nike, Nintendo, Pandora and Google, Kabir's mix and flavor of urban sounds provides clients with a diverse sample and range of voices. With thousands of Facebook followers, Kabir's passion for spreading positivity reflects in his work. A Voice Artist, Poet and Philosopher, Kabir continues to rank among top voice actors and talents in the country.
Kabir's Visual Demo will showcase a range of clients, sounds and personalities. Kabir's voice and sound is ethnically familiar and pleasant. Warm and genuine enough for clients such as The Boys and Girls Club Of America but also raw and gritty enough for The Memphis Grizzlies (NBA).  Kabir is The Voice of Millennials. Having voiced numerous projects for major universities and colleges, Kabir's relatable and conversational sound inspire and motivate students to chase their dreams.  Described by one of his clients as "The ideal and perfect voice for connecting with urban, African American and college students in today's market, Kabir is a creative professional and voice acting expert."
Kabir is also the current voice for Customer Service and IVR modules for T-Mobile. A friendly urban sound with a smile and generosity that the listener can hear and feel. Kabir Singh is a top voice talent and actor. With representation thought the country, Kabir's team can handle most voice over projects within 48 hours' notice. Kabir's studio is equipped with various connectivity options for live sessions. Some of which include: Skype, iPDTL, Source Connect Standard and phone patch!
To dig deeper into the top male voice over artist, acting talent, and actor online, tap "Video Demos" in the navigation bar above!